Schönox Demonstrates Why the Switch is ÖN at Surfaces and Builders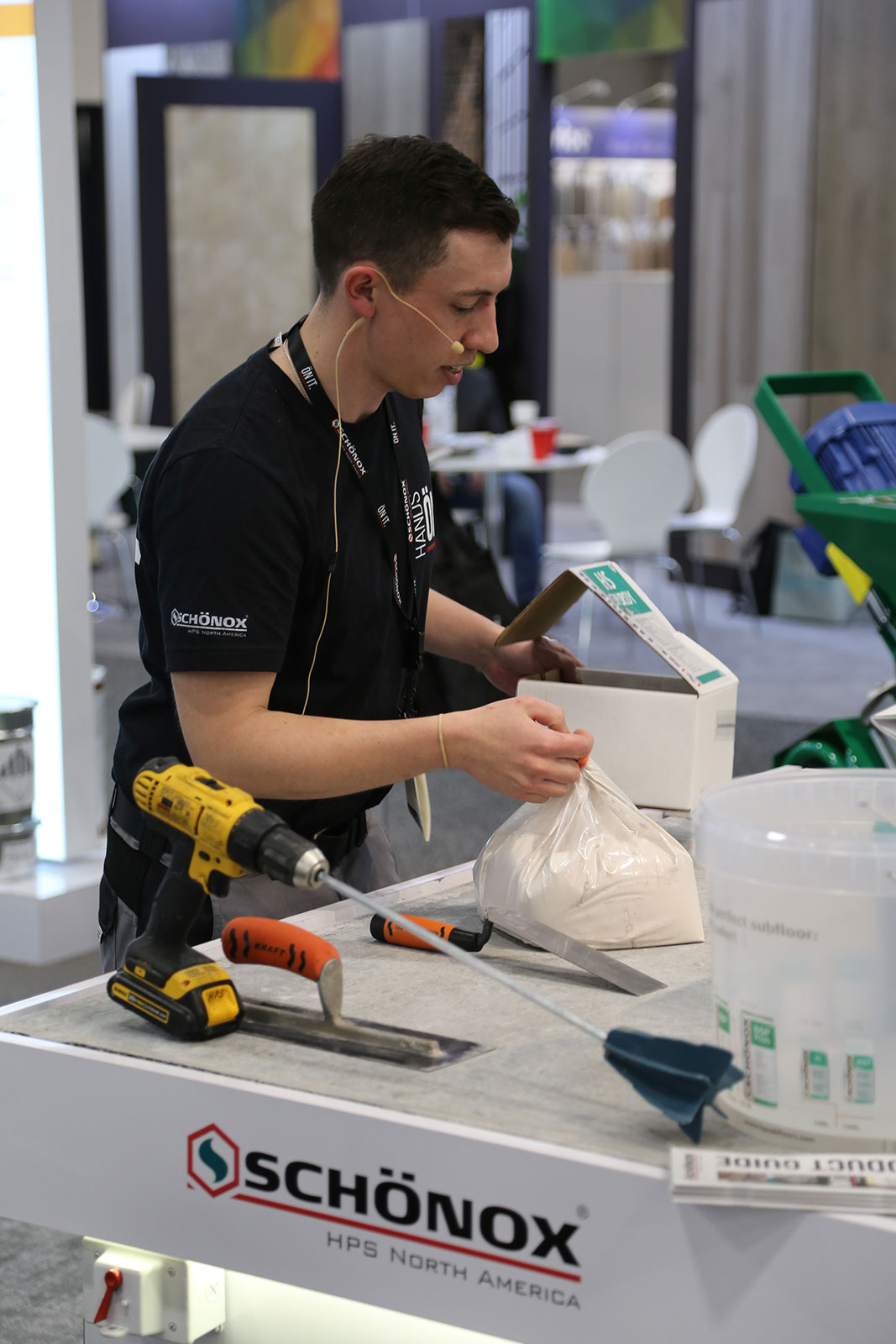 Las Vegas, NV – January 31, 2023 – Schönox HPS North America will debut a new prime-and-fill-in-one subfloor product and introduce two other strategically-sized packages this week at the TISE Surfaces (booth 5413) and NAHB Builders (booth C8939) shows in Las Vegas, each resulting from customer needs identified in the field. "Our new product introductions link directly with the project needs and new technology desires we observe working closely with flooring professionals," explained Thomas Trissl, Principal, Schönox HPS North America. "The positive momentum we see building in the field led to our new communications program, The Switch is ÖN, given voice not by us, but by the installers and contractors who count on Schönox each day."
At Surfaces, the Schönox team will demonstrate the all new Schönox FP, one-part filling and priming compound, allowing professionals to prime and fill substrates in one step. Tight project timeframes and limited numbers of skilled flooring professionals necessitate the most efficient subfloor products and processes. Schönox FP combines tasks, dries fast, and works with a wide variety of substrates, providing contractors with a new technology matching their fast-paced schedules.
Schönox launches its new marketing plan this week focused on flooring professionals using Schönox in the field, appropriately entitled, The Switch is ÖN. Installers, contractors, and flooring dealers talk about their Schönox experiences and how their work has been positively impacted. "This is much more than an ad campaign for Schönox; it provides an opportunity for flooring pros to speak to flooring pros, while amplifying the importance of their work in the success of each project," commented Tracy Johnson, Creative Director, Schönox HPS North America.
In addition to Schönox FP, the company will launch resized, smaller-portion packaging for its highly successful HS Sturdy, repair and smoothing compound with hybrid active-dry technology, and its Emiclassic, universal pressure-sensitive acrylic adhesive. The new packaging meets the needs of installers working with multiple, smaller project spaces, such as multifamily, office, and health care spaces. "Project success is found in the details like combining tasks, getting products into just the right sizes, and always by listening closely to the customers in the field using Schönox," said Johnson.
ABOUT SCHÖNOX
Schönox HPS North America, Inc., a business unit of TMT America, Inc., is a customer-oriented, entrepreneurial, high-tech company specializing in subfloor solutions for new construction, as well as renovation and occupied spaces. Innovative products include primers and moisture mitigation systems, subfloor repair products, floor-leveling compounds, adhesives, and waterproofing materials for installing floor coverings. For more information about Schönox products, contact the Marketing Department by emailing marketing@hpsubfloors.com, calling toll free 855.391.2649, or visiting hpsubfloors.com.