SCHÖNOX HPS NORTH AMERICA CELEBRATING 10 YEAR ANNIVERSARY IN 2021
The Year's Events to Culminate at Surfaces – Las Vegas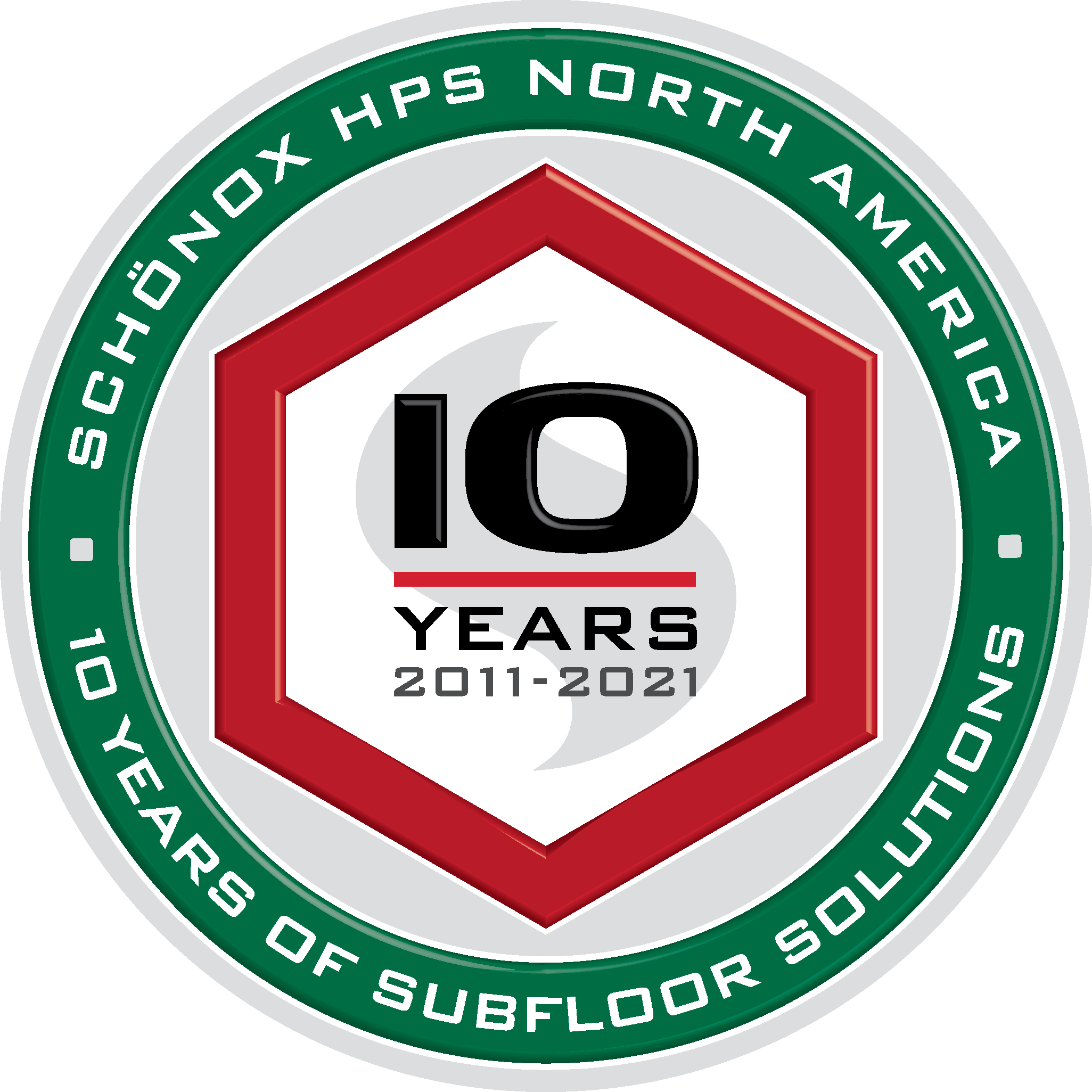 Florence, AL – January 27, 2021 – Schönox HPS North America marks its 10-year anniversary in 2021, pointing toward the June Surfaces event in Las Vegas as the high point of celebrations planned throughout the year. "Surfaces has been an important part of Schönox HPS North America's development in the US for each of the company's ten years, offering a chance to meet colleagues in person to plan and share ideas," explained Thomas Trissl, Principal, Schönox HPS North America. "This year's Surfaces show will take on special importance as the first in-person event for the entire industry in 18 months, offering Schönox a chance to celebrate, thank our customers, and look to the future together."
Anniversary events planned for Surfaces include hands-on demonstrations and workshops, sharing the product attributes with attendees which have taken Schönox from a new brand in the US to the first choice by the nation's top flooring professionals in just ten years. A Schönox anniversary party will be part of the events at Surfaces as will the announcement of an inaugural Schönox-sponsored contest designed to honor excellence in the industry. "These ten years for Schönox are all about our customers and distributor partners," commented Doug Young, Executive Vice President, Schönox HPS North America. "Throughout the year and certainly at Surfaces, we will be thanking customers and working together to grow their businesses, elevating the success of every subfloor project."
Schönox plans to amplify its Hybrid subfloor series, expanding training and awareness of it in the flooring community during its anniversary year and beyond. Patented Hybrid Active-Dry Technology gives Schönox Hybrids strength, speed, and versatility without expansion and contraction. The product series is a game changer, equipping flooring professionals like never before to address subfloor projects from the every day to the extreme with confidence and speed.
2021 marks the 10-year anniversary of Schönox's debut in the US, but the 130-year anniversary of Schönox's operations internationally. In February 2011, Schönox HPS North America partnered with Schönox GmbH in Germany to introduce, market, and support Schönox subfloor products throughout the North American market. The strategic alliance allows Schönox to move with the flexibility of an entrepreneurial startup while supported by products refined by 130 years of intense research and development which continues to this day.
ABOUT HPS SCHÖNOX
Schönox HPS North America, Inc., a business unit of TMT America, Inc., is a customer-oriented, entrepreneurial, high-tech company specializing in subfloor solutions for new construction, as well as renovation and occupied spaces. Innovative products include primers and moisture mitigation systems, subfloor repair products, floor-leveling compounds, adhesives, and waterproofing materials for installing floor coverings. For more information about Schönox products, contact the Marketing Department by emailing marketing@hpsubfloors.com, calling toll free 855.391.2649, or visiting hpsubfloors.com.