SCHÖNOX INTRODUCES PATENTED HYBRID ACTIVE-DRY TECHNOLOGY IN A REPAIR AND SMOOTHING COMPOUND
Schönox HS Sturdy Provides Versatility and Strengths Previously Unseen in the Industry
Florence, AL – August 19, 2020 – Schönox introduces HS Sturdy, a repair and smoothing compound incorporating the company's patented Hybrid Active-Dry Technology. From featheredge to 2-inch depths, HS Sturdy repairs, patches, and smooths combining tasks for use on a wide variety of substrates including concrete and gypsum as well as diverse ones such as wood, vinyl, and ceramic. Hybrid Active-Dry Technology allows Schönox HS Sturdy to dry independently of the job site's environmental conditions with minimal shrinkage or expansion.
Schönox HS Sturdy is a strategic move forward by Schönox. It provides installers a fully integrated series of hybrid products that combine the versatility, strength, and durability of synthetic gypsum with the speed of fast-curing cement. "Hybrid Active-Dry Technology is a game changer for the subfloor industry putting break-through innovation into the hands of flooring professionals," explained Thomas Trissl, Principal, Schönox HPS North America. "Schönox hybrid product solutions address the most diverse subfloor conditions calling for quite varied product depths using rapid-drying solutions with greater speed, performance, and product safety like never before."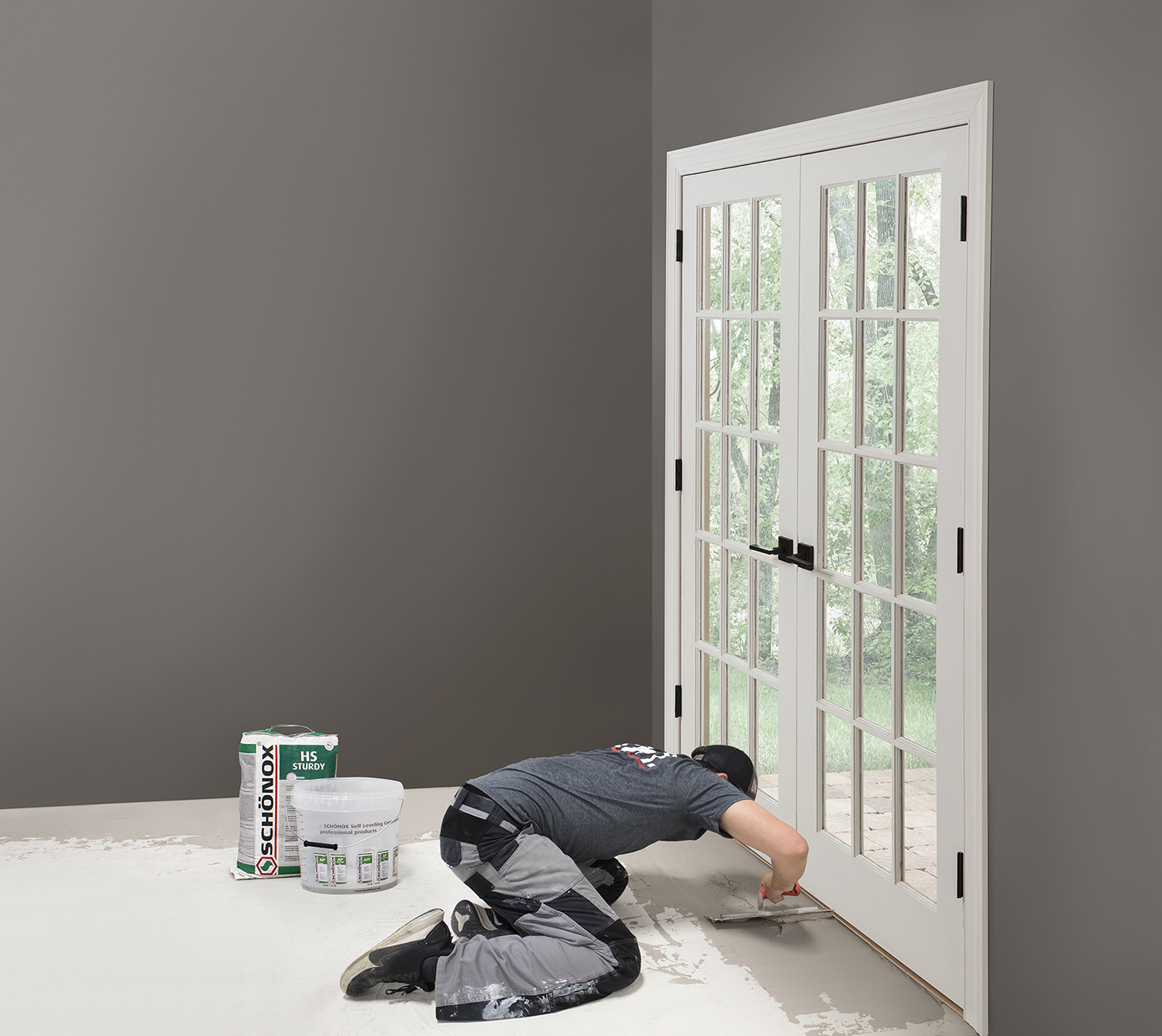 The Schönox products with Hybrid Active-Dry Technology now include HS Sturdy as well as self-leveling compounds, Schönox AP Rapid and Schönox AP Rapid Plus, which handle pours from 1/16 inch to 3-inch depths. Hybrid Active-Dry Technology is the culmination of Schönox's extensive research and development goals in this area to develop products with fast strength and drying characteristics with minimal shrinkage or expansion. "No repair mortar containing synthetic gypsum, other than Schönox HS Sturdy, can be applied from featheredge to 2-inch depths," commented Shane Jenkins, Senior Technical Coordinator, Schönox HPS North America. "The patented Hybrid Active-Dry Technology leverages the best characteristics of synthetic gypsum and cement in concert with specially-formulated binders creating product solutions the industry never thought possible."
Environmental and safety standards remain top-of-mind in Schönox's research and development efforts. Schönox HS Sturdy has low pH, very low emissions, and special dust-reduced properties delivering on the industry-leading safety goals the company has in place. "Schönox HS Sturdy is the latest Schönox solution. It delivers on speed with its rapid-drying time. It delivers on performance with its 4400 psi compressive strength. It covers various substrates, is installer-friendly, and is environmentally non-toxic with outstanding low-dust, attributes," explained Doug Young, Executive Vice President, Schönox HPS North America. "We couldn't be more excited to introduce products with this level of innovation when everyone in the flooring industry is most in need of high-performance products like Schönox HS Sturdy."
ABOUT HPS SCHÖNOX
Schönox HPS North America, Inc., a business unit of TMT America, Inc., is a customer-oriented, entrepreneurial, high-tech company specializing in subfloor solutions for new construction, as well as renovation and occupied spaces. Innovative products include primers and moisture mitigation systems, subfloor repair products, floor-leveling compounds, adhesives, and waterproofing materials for installing floor coverings. For more information about Schönox products, contact the Marketing Department by emailing marketing@hpsubfloors.com, calling toll free 855.391.2649, or visiting hpsubfloors.com.